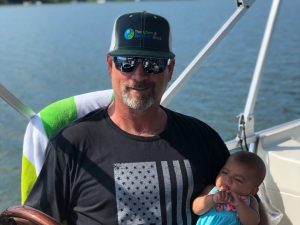 Scott Jarred is the President and CEO of the Lawn & Sprinkler Guys, and has held this proud role since 2012.
Back in 1985, It was Tom Staples who founded a little locally-owned, customer-oriented company specializing in lawn irrigation installation and servicing with a cornerstone of core values including excellent customer care and top quality service. Scott took over when Tom retired in 2012, and became the new owner & president. With new management, and a new perspective and mission rooted in Tom's core values, the business expanded further in 2015 to include turf health & maintenance services.
Scott proudly served in the United States Air Force, worked in the Maintenance Division at TWA for 14 years and is a faithful member of his Church. He and his wife, Tiffany have been married for 24 years as of October 2022, and look forward to many more fantastic years to come. Their two children, John and Becca, have grown up to raise families of their own, making Scott "Pa" (that's grandpa, but still feelin' young!) to three wonderful boys and three amazing girls, all of whom their Pa completely ADORES to pieces.
In his spare time, Scott is an avid golfer and fisherman who finds the time to relax at the end of a sunny day on the course (or on the boat) by enjoying a finger or two of vintage bourbon from his collection paired with a fine hand-rolled cigar.
Even though Scott is a busy family man living life to the fullest, he absolutely loves what he does. Scott himself can be seen making home visits to meet customers for every potential new irrigation install estimate we provide! He also designs each new irrigation installation system we install, and works with his Install Crew Chief to oversee quality.